When we say less stress, we include the easy delivery of heavy or cumbersome equipment directly to your event site.
The more you share about your event site, the smoother your booking, delivery & set up will be.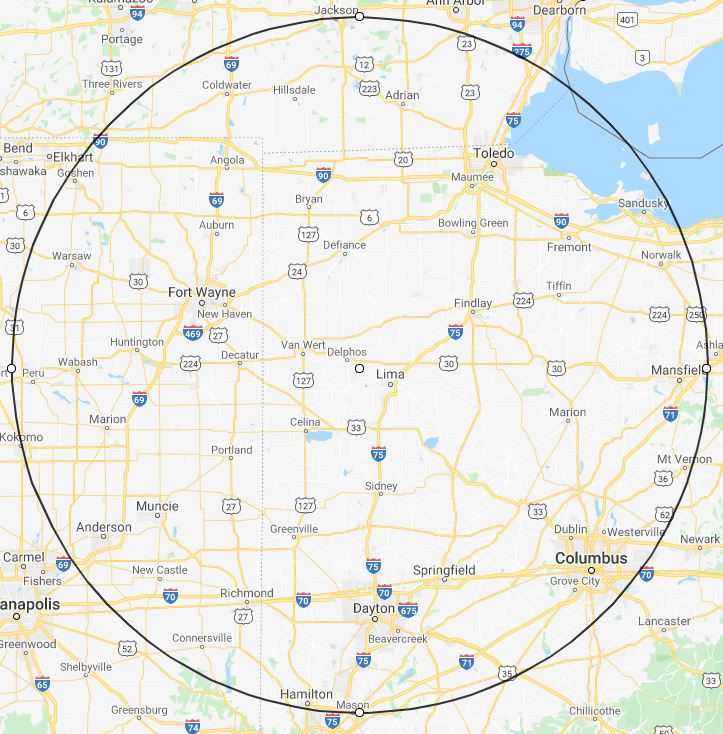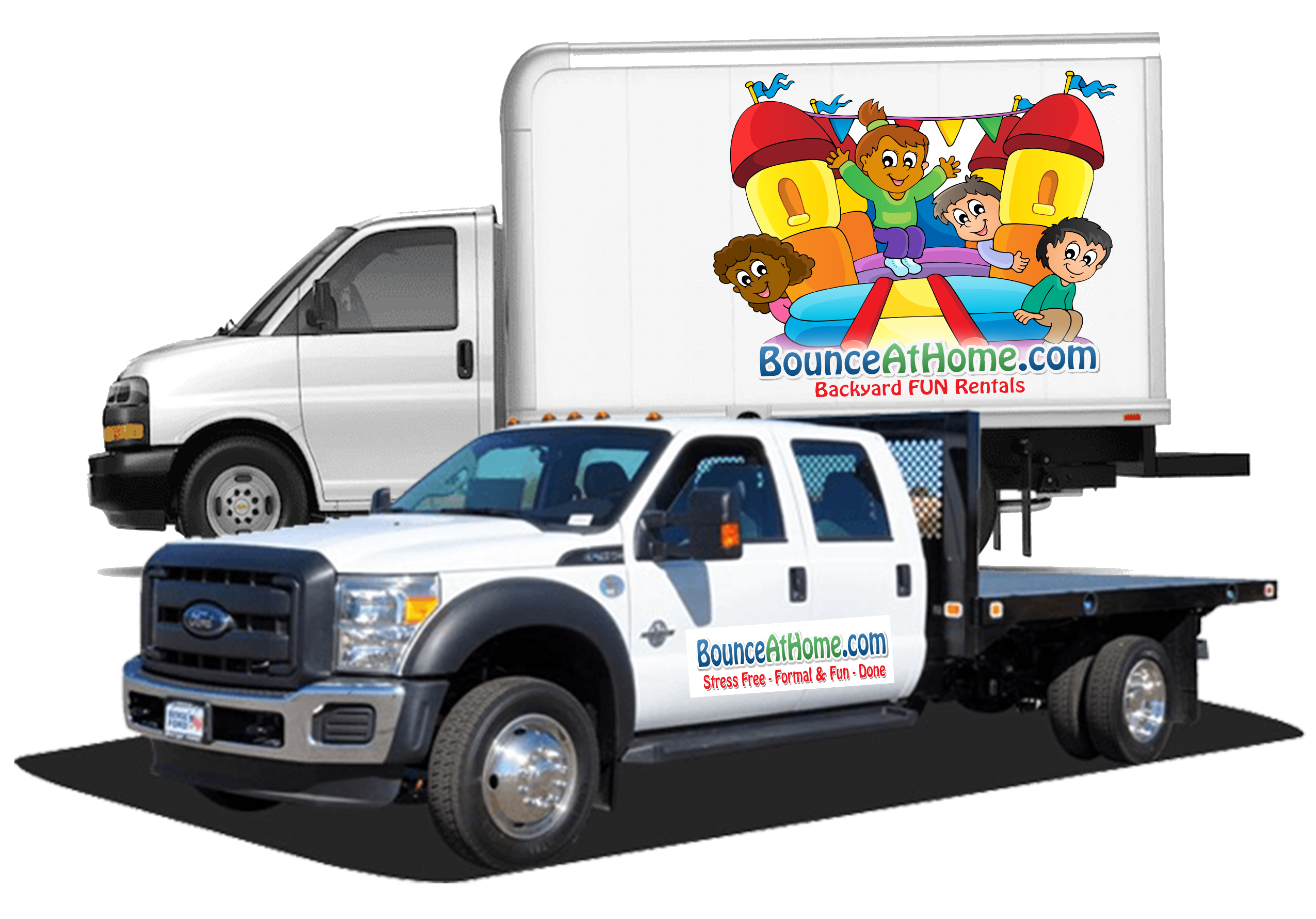 DELIVERY RATES & MORE 
BASIC Delivery – Based on delivery distance
Basic delivery fee calculated by distance during normal business hours of operation Monday through Friday.  First delivery 8 am – Last pick up at 6 pm. Delivery scheduled based on 2 hours delivery / pick up window established by start/ end time for your event.
Inflatable attractions are completely set up and anchored for operation. Convenient email reminders are provided to assist in your planning and delivery details. Delivery is provided with quantity items stacked off truck ready for distribution or set up. Premium fees apply for late-night, specifically required set up/ removal times, or delivery with excessive handling with steps, distance from the truck, or other special consideration.
Premium Delivery – $75
Weekend & After Hours delivery and/or pick up outside of normal hours of operation, but still prior to 9 pm.
If delivery REQUIRES extended or specific guidelines including time, delivery / pick up to public spaces, reception halls, or areas of limited access that require special handling or equipment.
Premium Plus Delivery – $250
Late night service requested for pick up or delivery beyond 9 p.m.  Premium plus is applicable to restricted access and or special requirements associated with equipment handling as well as required certification for safety/ PPE prior to access.
(A company representative will contact you.)
Special Rates available to extend Overnight Rental for inflatable amusement attractions:  $75.00 
Eliminate the need for late night pick up and extend your rental and use overnight.  Early delivery is guaranteed along with pick up of equipment the next day before NOON.
A Bounce at Home representative will contact you to confirm
all last-minute details.
We deliver to the following locations:
Delphos, Fort Jennings, Middle Point, Ottoville, Spencerville, Venedocia, Gomer, Elgin, Vaughnsville, Lima, Cloverdale, Kalida, Grover Hill,Cairo,Van Wert,Mendon,Columbus Grove,Dupont,Buckland,Scott,Ohio City,Melrose,Haviland,Rockford,Glandorf,Beaverdam,Saint Marys,Continental,Oakwood,Convoy,Ottawa,Wapakoneta,Uniopolis,Latty,Lafayette,Miller City,Willshire,Wren,New Knoxville,Pandora,Chickasaw,Paulding,Saint Johns,Bluffton,Harrod,Leipsic,Celina,Payne,Pleasant Mills,Montezuma,New Bremen,New Bavaria,Waynesfield,Kettlersville,Botkins,Mount Cory,Ada,New Hampshire,Cecil,Coldwater,Holgate,Monroe,Belmore,Monroeville,Decatur,Rawson,Alger,Minster,Anna,Antwerp,Benton Ridge,Maria Stein,Hamler,Mc Guffey,Jackson Center,Lakeview,Defiance,Jenera,Berne,Fort Recovery,Roundhead,Saint Henry,Woodburn,Linn Grove,Jewell,Dola,Mc Comb,Fort Loramie,Preble,Lewistown,Geneva,Belle Center,Osgood,Sherwood,Hoagland,Russells Point,Deshler,Maplewood,Yorkshire,Williamstown,Dunkirk,Mark Center,Okolona,Burkettsville,Malinta,North Star,New Haven,Findlay,Port Jefferson,Fort Wayne,Arlington,Hicksville,Hoytville,Harlan,Bryant,Ney,Huntsville,New Weston,Sidney,Grelton,Craigville,Grabill,Napoleon,Custar,Kenton,Russia,Farmer,Houston,Quincy,Rossburg,Pemberton,Evansport,Forest,Salamonia,Mc Clure,Ridgeville Corners,Versailles,Milton Center,North Baltimore,Ossian,Mount Blanchard,Van Buren,De Graff,Portland,Saint Joe,Rushsylvania,Petroleum,Rudolph,Bryan,Leo,Ridgeway,Bellefontaine,Vanlue,Stryker,Ansonia,Cygnet,Weston,Keystone,Piqua,Yoder,Edgerton,Arcadia,Liberty Center,Wharton,Uniondale,Rosewood,Pennville,Union City,Colton,Jerry City,Grand Rapids,Pettisville,Kirby,Covington,Archbold,Mount Victory,Bloomdale,Zanesville,Conover,Butler,Poneto,Auburn,Bradford,Markle,Fletcher,Alvada,Portage,Gettysburg,Saratoga,Huntertown,West Mansfield,Tontogany,Ridgeville,West Liberty,Carey,Blakeslee,Zanesfield,Neapolis,Bowling Green,Wauseon,Arcola,West Unity,Montpelier,West Millgrove,Roanoke,Garrett,Saint Paris,Greenville,Wayne,Redkey,Upper Sandusky,Pleasant Hill,East Liberty,Fostoria,Whitehouse,La Rue,Delta,Middleburg,Haskins,Waterville,Troy,Casstown,Kunkle,Waterloo,Edon,Laotto,Raymond,Christiansburg,Hamilton,Fayette,Risingsun,Winchester,Westville,New Bloomington,Mingo,Harpster,Ludlow Falls,New Riegel,Pioneer,Hartford City,Alvordton,Swanton,Morral,Dunbridge,Urbana,Palestine,Mc Cutchenville,Churubusco,Laura,Monclova,Bradner,Pitsburg,Avilla,Huntington,Warren,North Lewisburg,Cable,Arcanum,Pemberville,Corunna,Bascom,Broadway,Ashley,Potsdam,Lyons,Richwood,West Milton,Farmland,Kansas,Maumee,Albany,Hollansburg,New Madison,North Hampton,Lynn,Pleasant Lake,Perrysburg,Eaton,Waldron,Tipp City,Woodstock,Tremont City,Columbia City,Metamora,New Carlisle,Holland,Sycamore,Helena,Luckey,Green Camp,Parker City,Stony Ridge,Kendallville,Nevada,Phillipsburg,Bettsville,Lemoyne,Morenci,Tiffin,Toledo,Melmore,Marysville,Camden,Berkey,Marion,Verona,Burgoon,Hudson,Milford Center,Englewood,Gibsonburg,Rossford,Vandalia,Oceola,Prospect,Upland,Springfield,West Manchester,Magnetic Springs,Muncie,Andrews,Fountain City,Sand Creek,Angola,Donnelsville,Frontier,Albion,Woodville,Walbridge,Bippus,Modoc,Selma,Jasper,Sylvania,Clayton,Matthews,Stroh,South Milford,Medway,Mechanicsburg,South Whitley,Fremont,Old Fort,Eldorado,Williamsburg,Osseo,Brookville,New Paris,Irwin,Wolflake,Dayton,Northwood,Catawba,Radnor,Millbury,Lewisburg,Genoa,Gas City,Losantville,Fowlerton,Gaston,Pittsford,Enon,Rome City,Lagro,Lindsey,Unionville Center,Larwill,Wolcottville,Webster,Ostrander,Bucyrus,Bloomville,La Fontaine,Ottawa Lake,Economy,Elmore,Blissfield,Clay Center,Fairborn,Kimmell,Wawaka,Hillsdale,Montgomery,South Vienna,Reading,Riga,Waldo,Servia,Liberty Mills,Lambertville,Oregon,Chatfield,Orland,Caledonia,Green Springs,Jonesboro,Mooreland,Richmond,Williston,Adrian,Pierceton,Palmyra,Plain City,Greens Fork,Hagerstown,Yorktown,Wabash,Fairmount,Oakville,Harbor View,North Manchester,Cromwell,New Lebanon,Martin,Republic,Mongo,Yellow Springs,Rocky Ridge,Graytown,Lagrange,Springport,Sweetser,Summitville,Temperance,West Alexandria,Clifton,Sulphur Springs,Ligonier,Delaware,North Adams,Daleville,Martel,South Charleston,Edison,North Webster,North Robinson,Samaria,Curtice,Attica,Somerset,Farmersville,Laketon,New Washington,Oak Harbor,Deerfield,Manitou Beach,Mount Summit,Petersburg,Erie,Alpha,Iberia,Centerville,Addison,Powell,Boston,Swayzee,Allen,Clyde,Winona Lake,Howe,Topeka,Dublin,Alexandria,Kilbourne,Amlin,Pershing,Galion,Silver Lake,Claypool,Cedarville,Roann,New Castle,Cambridge City,Onsted,Tiro,Wilberforce,Cardington,Flat Rock,Anderson,Syracuse,Converse,Orestes,Miamisburg,West Jefferson,Gratis,Middletown,New Lisbon,Lacarne,Ida,Luna Pier,London,Jonesville,Bronson,Warsaw,Germantown,Crestline,Somerset Center,Xenia,Vickery,Bellevue,Cement City,Hilliard,Jerome,Bellbrook,Lewis Center,Fulton,Tipton,La Salle,Millersburg,Leesburg,Tecumseh,Moscow,Columbus,Britton,Amboy,Dundee,Litchfield,Straughn,Milton,Mount Gilead,South Solon,Port Clinton,Willard,Spring Valley,Shipshewana,Mosherville,Elwood,Galloway,Burr Oak,Brownsville,Frankton,West Elkton,Marengo,Greentown,Brooklyn,Burket,Sunbury,Plymouth,Bentonville,Galena,Castalia,Hanover,Greensboro,Milford,Clinton,Shelby,Horton,Jamestown,Sedalia,Somerville,Kennard,Liberty,Westerville,Gypsum,Azalia,Springboro,Shirley,Markleville,Denver,Clarklake,Shauck,Akron,Atwood,College Corner,Sturgis,Windfall,Mentone,Lewisville,Franklin,Spiceland,Peru,Chesterville,Macy,Jeffersonville,Waynesville,Dunreith,Middlebury,Goshen,Falmouth,Sparta,Deedsville,Norvell,Hobbs,Mansfield,Ontario,Collinsville,Bunker Hill,Connersville,West College Corner,Mexico,Bowersville,Etna Green,Grove City,Maybee,Sandusky,Milan,Manchester,Hemlock,Knightstown,Miami,Trenton,Tekonsha,Harveysburg,Athens,Concord,Port William,Harrisburg,Nottawa,Homer,Pendleton,Wilkinson,Seven Mile,Centreville,Mays,Bridgewater,Lakeside Marblehead,Colon,Saline,Lapel,Centerburg,North Fairfield,Milledgeville,Mount Sterling,Nappanee,Grissom Arb,Spring Arbor,Derby,Jackson,Kokomo,Oxford,Norwalk,Lebanon,Tippecanoe,White Pigeon,Overpeck,Carleton,Bath,New Albany,Oregonia,Newport,Bloomingburg,Mount Liberty,Oakford,Shiloh,Michigan Center,New Waverly,Croton,Orient,Charlottesville,Fredericktown,Onward,Bristol,Ingalls,Leonidas,Bourbon,Greenwich,Willis,Whittaker,Burlington,Atlanta,Bellville,Put In Bay,Constantine,Sharpsville,Twelve Mile,Blacklick,Sabina,Carthage,Middle Bass,Noblesville,Wilmington,Fairfield,Glenwood,Johnstown,Reesville,Isle Saint George